Butane Lighter Insert- Yellow Flame
SKU: 19169365806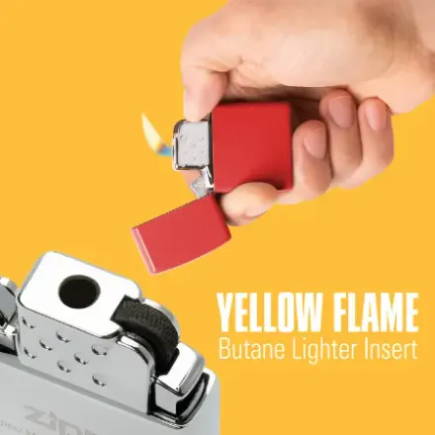 About the Yellow Flame Insert
Zippo's yellow flame butane insert is the perfect accessory for any classic Zippo lighter case. The refillable butane insert stays true to Zippo's roots in form and function and produces an odorless yellow flame for even more versatility. Backed by our best-in-class warranty for years of reliable use. For optimum performance, fill with Zippo butane fuel. Comes packaged in a gift box.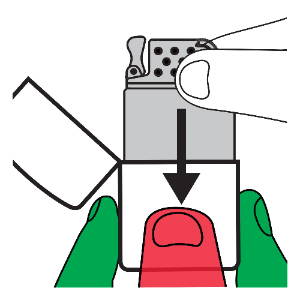 Step 1: How to Fill
All Zippo Butane Inserts will be packaged and shipped unfilled. To start filling, remove Zippo insert from either the packaging or lighter case. When removing places on either side of the insert below the chimney. Be sure to flip the insert into an upside-down position. Be sure to fill or refill in a well-ventilated place, and always keep the insert or lighter away from face.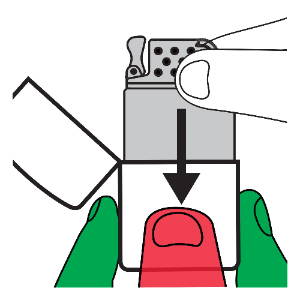 Step 2: How to Fill
Once the lighter is upside down, place the butane fuel nozzle into the filling valve, located at the bottom right hand side of the insert. Refill the insert for 6 seconds.

Please wait an additional two minutes after filling to use the insert.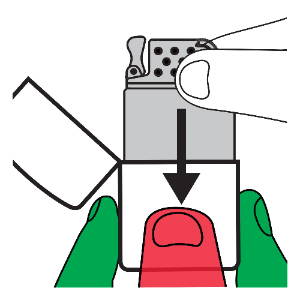 Replaceable Flint
Remove screw and attached spring at the bottom of the insert. Be sure old flint is removed from tube. Place new flint in tube and replace spring. Screw lightly. Be sure screw is turned as far as it will go. If wheel binds after new flint is inserted, turn wheel backwards a few times.
| | | | | |
| --- | --- | --- | --- | --- |
| | Single Torch Butane Insert | Double Torch Butane Insert | Yellow Flame Butane Insert | Arc Insert |
| | | | | |
| Uses per Charge/Fill | 100 lights per fill | 60 lights per fill | 125 lights per fill | 40 lights per charge |
| Flame Duration | 5 seconds | 5 seconds | 5 seconds | 5 seconds |
| Recharge Time | N/A | N/A | N/A | 1 Hour |
| Adjustable Flame | Yes | Yes | N/A | N/A |
| Ships | Unfilled | Unfilled | Unfilled | Partially Charged |
| Warranty | 2 Year | 2 Year | 2 Year | 2 Year |